Strathalbyn IGA has 'CLASS'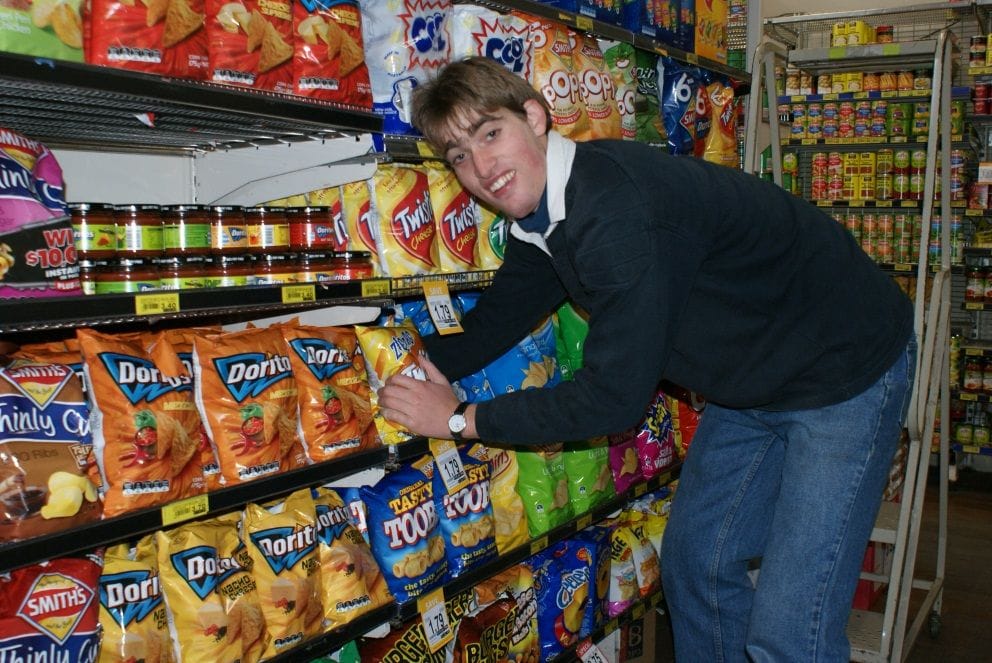 Spend just one hour with work experience employee, George Rowe, during his shift at IGA Strathalbyn and it is easy to see why he is an asset to the store.
As George restocks and rotates the stock in the chips isle, he fastidiously checks all of the expiry dates and greets every customer who enters the isle. George, who was born with an intellectual disability, approached Strathalbyn IGA owner, Peter Minervini, when he finished high school for an opportunity to work voluntarily at the store to learn new skills. Peter, in conjunction with local disability organisation, Community Living and Support Services Inc (CLASS), who supports George, arranged for him to work at the store three hours per week, with the support of a CLASS support worker: An initiative which has been successful in George volunteering at the store for two years now.
Strathalbyn is a picturesque town 60 km southeast of Adelaide on the banks of the River Angas, with a population of over 6,000. IGA Strathalbyn store owner, Peter, has embraced the values of community spirit, in particular with his added support for CLASS. With the help of IGA Strathalbyn's sponsorship, CLASS recently hosted a country charity race day which raised over $5,000. Aware of the chronic need for respite for young people with disabilities and their families, all of the funds raised support unfunded recreational camps for people living with a disability. CLASS Camps provide an invaluable opportunity for clients to gain some life long memories, first time experiences and provide skills and knowledge unknown to them before. Clients come from a wide range of backgrounds, including those disadvantaged by low income, social and family isolation, geographical isolation and sole parenting. Peter says "there is a good synergy between the values of IGA Strathalbyn and CLASS. We both employ local people, are community-minded and try and support other local businesses".
Peter stated that "George is a wonderful ambassador for CLASS. In the time George has been working here, I have observed the work skills he has developed. When George first came here, he looked lost, but now he is focused on his day's tasks and gets on with his jobs." Peter added "He has learnt stock control, how to read use by dates and the importance of how to present stock. The most important benefit that I think George receives from being here is the social aspect and it is a real credit to CLASS that they practice their philosophy of social inclusion in the community."
On asking George the question of why he likes working at IGA Strathalbyn, the social aspect rates high for him as well. George also states, "I take pride in helping Peter and keeping the shop tidy. Peter is a good guy and I like him."
George has just completed his Certificate III in Micro-Business and has just started up a small business baking delicious biscuits for dogs. In return for all of the hard work George has performed at the store, Peter has helped George kick-start his business by stocking George's dog biscuits. Peter declares "it is great to see that the skills George has learnt from working here he is now using in his own manufacturing business!"
Organic and steady growth of the organisation sees CLASS now providing services in other locations of regional South Australia such as the Adelaide Hills, Fleurieu Peninsula, Kangaroo Island, Mt Gambier and The Riverland. Peter encourages other IGA owners to consider facilitating a person with a disability. Peter rates the experience "as having a positive effect on the business and a trained worker is here to support George for his shift, so there is no impact on the other staff. George is part of the team."
Words and Photos by Karen Goldie.