Fur-ever Friends

As Corey comes to greet me at the door, he is closely followed by a little red shadow! That little red shadow is Sandy, a two year old Australian Cattle Dog, also referred to as a Red Heeler. Sandy's tail is wagging and she is sporting a happy smile that mimics that of her best friend, Corey.
Sandy has made a considerable positive impact since she came to live with Corey and his Mum Narelle a few years ago. Sandy was a rescue dog introduced to the family through SA Dog Rescue. Corey was born with an intellectual disability and Sandy has become a furry best friend, with some unexpected therapeutic benefits. Sandy's kindness and gentleness has helped Corey by just being there.
Corey says of Sandy, "I talk to her, she is a good listener. She's funny!" Corey likes to share with his canine companion how he is feeling and his mum says Sandy often barks back in acknowledgement.
Sandy stays with Corey in his bedroom until she knows he has fallen asleep, before retiring to her own bed. She acts as Corey's alarm clock every morning and waits for the command from Mum to 'go wake up Corey'. They then sit in front of the television together while Corey eats his breakfast. They play tug-o-war in the backyard and Sandy loves to sit with Corey whilst he plays his PlayStation.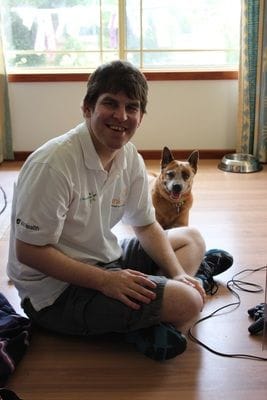 Sandy provides emotional support for Corey when it all becomes too much. By simply being there, she is a solid, sound and reassuring companion that helps ease a sensory overload. When Corey struggles to cope with the world around him, she lays beside him, allowing Corey to stroke her fur for comfort. Narelle says "Sandy is totally fixated on Corey and will not leave his side until she can sense that he has calmed down and is alright."
We'll never know Sandy's past, but her future is bright and she is loved very much by her new family. Corey has the last word; 'getting Sandy was a very special time for me and she makes me feel very happy."